Accounts Q&A
WHAT IN THE WORLD IS THE DIFFERENCE!?!
If you've found yourself asking any of the following questions, this two-part break down should help alleviate any doubts you may have had:
I have a subscription but I can't login to my account.
I can't sign in to my account.
How do I create an account?
How do I change my password?
Do I need an account to buy Death Wish Coffee?
First, let's go over the most common questions with a little Q&A.
Afterward, we'll check out the full break down of the three types of accounts available; what they mean, and what they'll get you.
Q: Do I need an account to buy Death Wish Coffee?
A: No! But you're going to want one. Having an account with us is how you receive Free Shipping, is necessary for earning and keeping track of Reward Points, as well as managing your Automatic Coffee Subscription. An account is encouraged to help you stack points and have ease of access. Also, if you want to have access to subscriber-only deals protected by a password, an account is necessary.
Q: I have a subscription but I can't login to my account.
A: If you're a subscriber, receiving automatic coffee shipments at a selected frequency, but you're having trouble logging in, managing and editing your subscription, it is possible you have not set up a "Log In" account. You do not need this "Log In" account to be a subscriber to newsletters or automatic coffee shipments. However, having the account will help in aiding you through the processes. If you do not have a "Log In" account created, this link will take you straight to the account creation page. 
Q: I can't sign in to my account.
A: It's possible that you do not yet have an account created. To double check, follow this link and enter the email address you believe to be connected - Log In But, if you're certain you do have an account but are still having trouble accessing, please send us an email at hey@deathwishcoffee.com and we'll go ahead to disable the account and send a new invitation, or we can also request a new password.
Q: I forgot my password/How do I change my password?
A: Click the login tab at the top right corner of our website. There, you'll see two blank fields to enter your "Log In" information. Underneath those empty fields, you will see a clickable link that asks, Forgot Your Password? Click that option.
Here is a screenshot of what you should see once you click the login tab.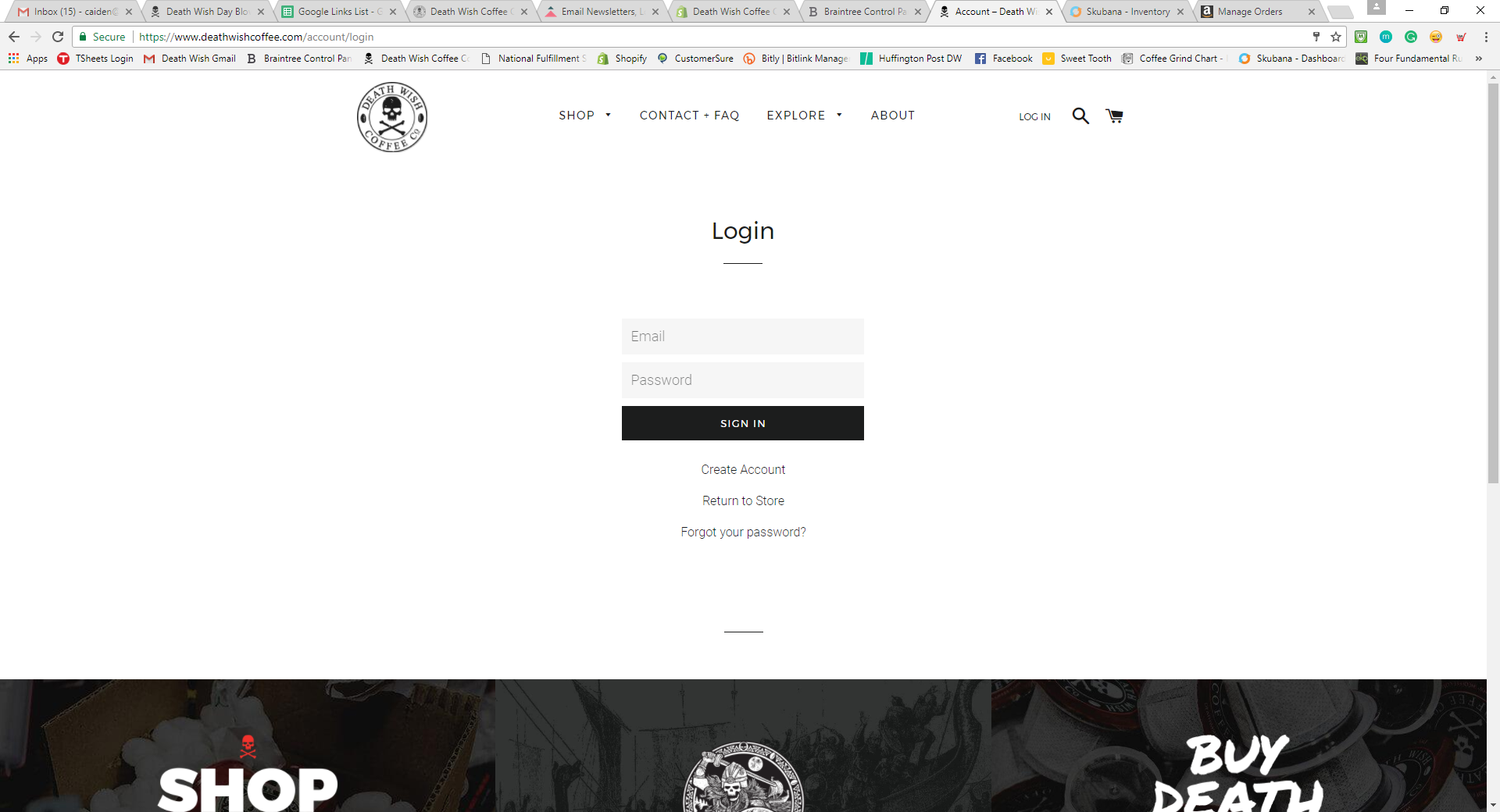 Now, let's go over the three types of accounts you can have with us; what they are, and what they'll do for you.
The most common would be our Email Newsletter. 
The Email Newsletter is our main means of keeping you in the loop with any offers we've got that week, or that specific day.
* Most offers are only valid on the day the email is sent. We'll be sure to include the window of availability right in the email.
* If you're unsure of when exactly the email was sent to you, it's always a good idea to check the timestamp in your inbox directly or feel free to reach out to us and we'd be happy to fill you in on what is available and what is no longer available. 
The Email Newsletter is free to sign up for and is a zero obligation sign up. You can come and go as you please. We do, however, recommend staying connected with us through these email newsletters to ensure that you never miss out on any of our bold offers. If you're not sure if you're signed up to receive these emails from us, just enter your email address at the very bottom of our homepage to connect. 
By signing up to receive email updates from us through this Email Newsletter, Please Note: you are not signing up for a Coffee Subscription, nor is this considered an eligible "Log In" Account. 
Next up, we have a Log In Account. 
The Log In Account is necessary to help you earn Reward Points for every purchase made with us, whether it's just a one-time purchase or for subscription orders, also known to some as, Recurring Orders.
Having a "Log In" Account is key in giving you access to managing your Coffee Subscription. This account form is also completely free to sign up for and is a zero obligation. Your user name will simply be the email address you used to create the account, which we will have access to if you happen to forget your password. However, your passwords are encrypted at the time it is entered, so if you happen to forget your password, just reach out and let us know. From there, we'll submit a new form for you to create a new password, all via email.
This is the page in which you can create a "Log In" Account. NOTE: This is NOT a coffee subscription sign up.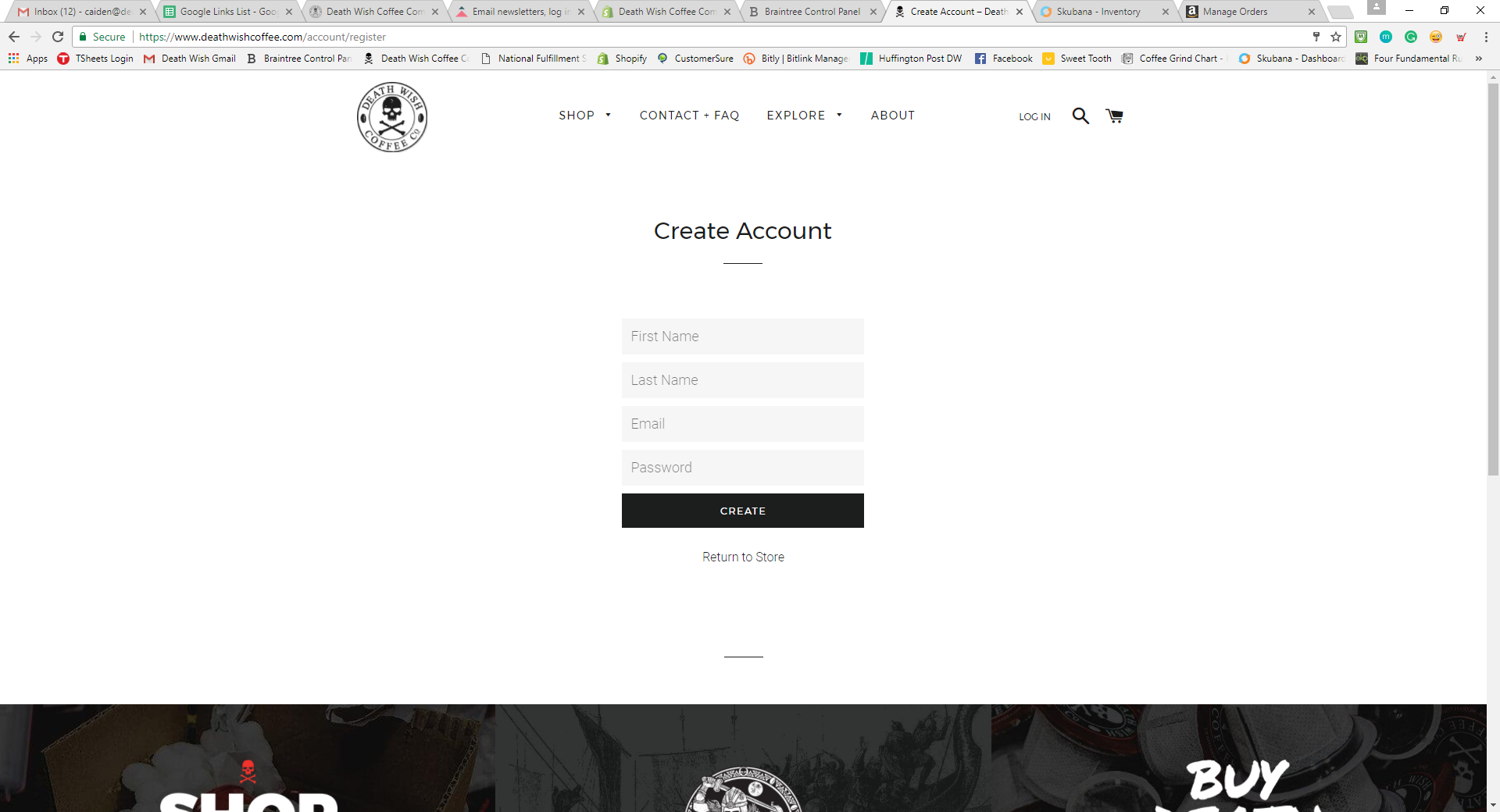 Lastly, we have our Coffee Subscription.
You can choose to sign up for a coffee subscription after selecting your desired item(s) from our Coffee Collections Page. You'll see the option to order as a one-time purchase, or sign up to Subscribe & Save, under any subscription eligible item. 
*Please Note: Not all of our items are subscription eligible at this time. We are always working on improving and offering more for subscription options, so please stay tuned & keep an eye out for more availability in the future.
While you do not need a "Log In" Account to create a subscription, it is strongly recommended. 
Having the pre-existing Log In Account will help in managing your subscription account moving forward, and be sure that your reward points, shipping, and billing information are already in order at the time the subscription account is created.
For any additional questions, please do not hesitate to contact us.
Our agents are available 5 days a week, 9 AM - 4 PM ET
Domestic calls (518) 400-1050
For calls coming from outside of the U.S., +1(518) 400-1050
To purchase Death Wish Coffee, click here. 
---
---